(Motorsport-Total.com) – After two weeks and 14 long stages, the 2023 Dakar Rally in Saudi Arabia is coming to an end. Nasser Al-Attiyah celebrated his fifth overall victory. The Toyota driver has been leading the general classification since the third stage.
With five victories, Nasser Al-Attiyah is the second most successful racing driver
Zoom
After Audi drivers Stephane Peterhansel and Carlos Sainz had six crashes on stage six, Al-Attiyah's lead grew to over an hour. From then on, the 52-year-old changed tactics. He no longer took any risks and secured first place until the finish.
In 2011 Al-Attiyah won with Volkswagen and in 2015 with X-raid Mini. He has been at the start with Toyota since 2017. With the Hilux he triumphed in South America in 2019 and in Saudi Arabia in 2022 and now 2023. These are also Toyota's previous victories in the Dakar Rally.
With five overall victories, Al-Attiyah is now the second most successful racing driver. Peterhansel has eight successes. Ari Vatanen is third in the all-time standings with four wins overall. The world rally champion, Sébastien Loeb, must wait for his first victory in the general classification.
After punctures and problems in stages two and three, his chances quickly vanished. But Loeb showed some catch-up with the Prodrive Hunter. He won stages 8 to 13 and set a new record with six consecutive victories.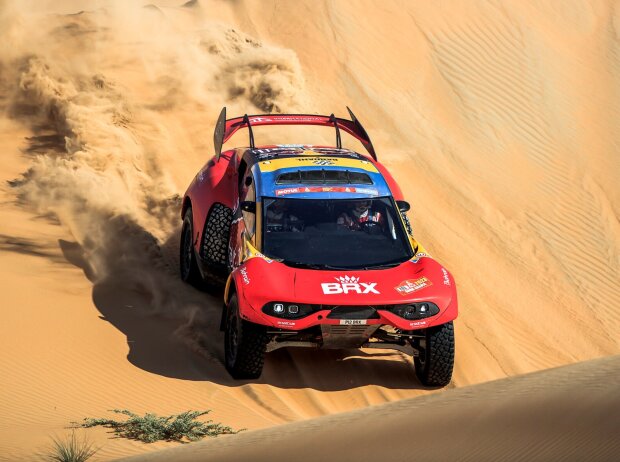 © Red Bull Content Group
With his return, Sébastien Loeb has collected important points in the championship Zoom
As a result, after two weeks, Al-Attiyah was one hour and nearly 19 minutes ahead of Loeb. Al-Attiyah took three stage wins while Loeb won seven days in total.
The 14th and final leg headed north from Hofuf along the Persian Gulf to the coastal city of Dammam. A total of 414 kilometers had to be covered. The classified special covered 136 kilometres.
Moraes/Gottschalk celebrate third place
Dakar rookie Lucas Moraes and his German co-driver Timo Gottschalk finished third in Dammam. They held a place on the podium on stage six and climbed to second place on stage nine.
But Loeb caught up too quickly and overtook the duo on the penultimate day. Nevertheless, Gottschalk points out that the expectations of Moraes' first Dakar have been far exceeded.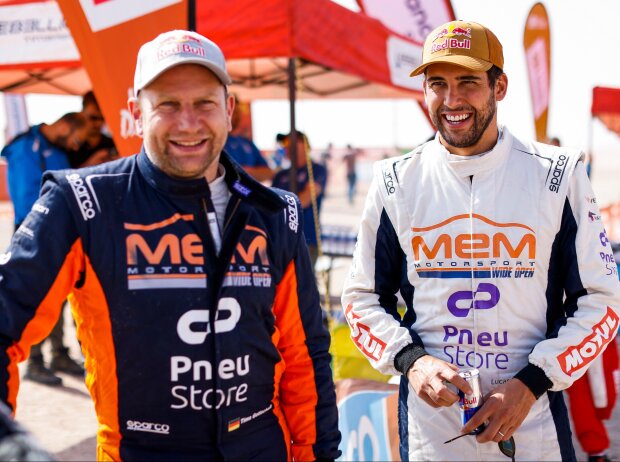 © Red Bull Content Group
Timo Gottschalk (right) and Lucas Moraes (left) as a big surprise Zoom
"You have to pinch me, please! We're on the podium," Gottschalk said. "It's the third time for me, after 2010 and 2011 with Nasser Al-Attiyah – but we more or less lived up to expectations."
"But this third place with Lucas exceeds all expectations and goals – it's particularly nice. I couldn't be more proud of what we have achieved in the last two weeks."
"Lucas showed an incredible amount of talent and always did everything right. I played a big part in that as well. I'm very happy to have had the chance to start with Lucas."
Summary Audi: A stage victory for Carlos Sainz
Veteran Giniel de Villiers finished fourth in the final result. Henk Lategan finished fifth. Apart from Loeb, only the Toyota Hilux was in the top 5. After various issues, Audi did not play a role in the top tier.
After Peterhansel and Sainz retired, Mattias Ekström was the last Audi driver in the field. The Swede showed a very consistent second week and was consistently in the top 3. In the end, Ekström ended up in 14th place.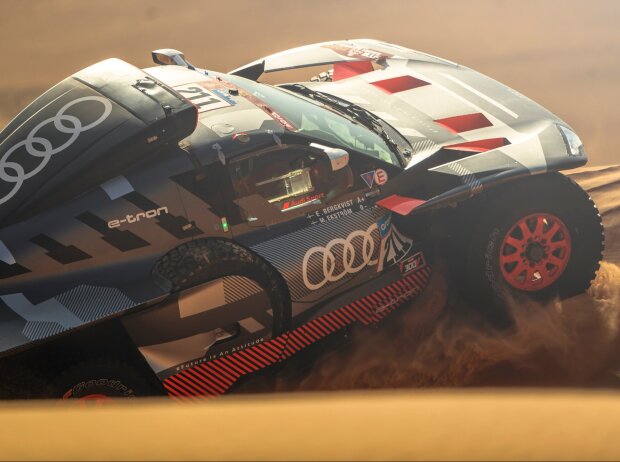 © Red Bull Content Group
Mattias Ekström was the only Audi driver to cross the finish line in Dammam Zoom
There was more drama with the Century team on Sunday. After ten kilometers, the engine of Mathieu Serradori's car died. He was waiting for his teammate Brian Baragwanath to be towed. Serradori started the day in ninth place overall.
The 14th and final stage was won by Guerlain Chicherit (Prodrive Hunter). Ekstrom and Sebastian Halpern (X-raid Mini JCW Plus) complete the top three. Prodrive won nine stages of the 45th edition of the Dakar Rally, Toyota four and Audi one.
Result of stage 14 (Top 10):
01. Chicherit/Winocq (Prodrive Hunter) – 1:09:24 hours
02. Ekstrom/Bergkvist (Audi) +1:36 minutes
03. Halpern/Gray (X-raid Mini JCW Plus) +1:53
04. Przygonski/Monléon (X-raid Mini JCW Plus) +3:08
05. Lategan/Cummings (Toyota) +3:44
06. Loeb/Lurqhin (Prodrive Fighter) +4:48
07. Al-Rajhi/Von Zitzewitz (Toyota) +5:08
08 Al-Attiyah/Baumel (Toyota) +5:41
09. de Villiers/Murphy (Toyota) +4:09
10. Checa/Sola Terradellas (Astara) +6:18
Final result after 14 stages (top 10):
01. Al-Attiyah/Baumel (Toyota) – 45:03:15 hours
02. Loeb/Lurquin (Prodrive Hunter) +1:18:49 hours
03. Moraes/Gottschalk (Toyota) +1:36:31
04. de Villiers/Murphy (Toyota) +2:29:12
05. Lategan/Cummings (Toyota) +2:36:23
06. Prokop/Chytka (Ford) +3:40:44
07. Yacopini/Oliveras Carreras (Toyota) +4:27:09
08. Han/Li (Hanwei) +4:29:21
09. Halpern/Graue (X-raid Mini JCW Plus) +4:42:38
10. Chicherit/Winocq (Prodrive Hunter) +5:22:10
#Dakar #Rally #Nasser #AlAttiyah #celebrates #victory