Marco Reus is once again fully involved and looks set for the race to catch up, which should end with a Champions League spot. At the same time, it is also about his own future. The BVB captain speaks in detail.
Patrick Kleinmann reports from Borussia Dortmund's training camp in Marbella (Spain).
By late morning, Reus was in the middle of an intensive two-hour training session, lifting medicine balls in the rain, doing sprints and also getting involved in the fast eleven. The ankle injury, which not only cost the captain a significant part of the previous season for BVB due to a setback, but also a possible participation in the World Cup, seems to have healed.
The 33-year-old looks set to catch up in the second half of the season, which should culminate in a Champions League spot. At the same time, it is also about his own future. As with some other Borussia players like Mats Hummels, Raphael Guerreiro or Youssoufa Moukoko, his contract expires this summer. The Dortmund native is also thinking about it.
Marco Reus about…
… the feeling after the first sessions: "Very, very good. We are training very intensively. The general conditions here are perfect, like every year. We have to lay the foundations for a good second half of the season, and we want to play because we have a lot of catching up to do. "
… at the center of the preparation: "In general, we have to work on many issues. The intensity of the game with and against the ball, the duels, the defensive behavior, the standards. These are all things that the coach gave us during the video sessions these last last years. days and that we are looking for. We have to give more appreciation. We have conceded too many goals in the last games. It has been made too easy for the opponents. We have to counter them with a different intensity and play our game better. game again."
… the importance of preparation for him personally: "Unfortunately, I was out again for two or three months. The whole story was a bit more complicated and took more time. It was not an easy time because there were always some setbacks. I just want to be on the pitch, that's why "It wasn't easy on my head. But I've managed well so far and I'm happy to be back with the team and making up for the things I missed, in terms of fitness and intensity. That's what training camp is for me very good. My legs are heavy, that's how it should be for us to be 100% against Augsburg.
… the objectives for the next six months: "Just to bring the intensity and the drive to win, defend goals and score goals on the pitch as a unit. When we did that we looked good most of the time. But we have to keep showing it on the pitch. It's a big weakness that we're working on, there are too many games where we have breakaways where we don't think it's going to be okay, where we have to attack against resistance but we don't do it the way we think we're going to do it to work, to get through this as a team, to come away victorious."
However, this should not affect your inner strength and team spirit.
… the reasons for these recurring setbacks: "If I knew, we'd stop him right away. There's so much going on in the game, you fall behind or don't get along well. But it shouldn't affect your inner strength and team spirit. Unfortunately, that was the case in the past often the case. But I believe that the many feedbacks are very important for us, give us more breadth and quality in the team, fuel the competition. All these elements are important for us. We have to be in the race from the start. first game to catch up behind, there are no excuses."
Had to do without Marco Reus at the World Cup: national coach Hansi Flick.
IMAGO/Ulmer/Team photo
… his fall on injury and the missed World Cup: "It was extremely difficult. There were many events and phases in which it was very difficult from the head. The discussions with Hansi Flick hurt when you say at the end that it has no sense and that's not enough. Then you have to focus directly on fitness again anyway. That's our job and the head still plays a big part. It's no different for me. , although i can handle it a bit better because i got to know it in the past. it still hurts a lot every time. but i am a positive person and i am happy to have the opportunity to to be on the pitch again and training with the guys."
… his progress and a possible comeback in the first match against FC Augsburg: "I stand normally on the training ground and offer myself to the coach. I feel good, I have gone through all the sessions so far. If nothing serious happens, I hope that it will stay that way. I did a lot during the Christmas season and before that, to get to a good level. Of course, individual training and team training are completely different things. That's why you have to a few days to get used to it, to get into a rhythm. But the sessions are going very, very well. I'm very happy with how it's going just running.
… an alleged offer from Ronaldo Al Nassr's club: "For me it's important that I stay healthy, that I take part in the whole training camp and in the matches. You will see the continuation in the future, I have my adviser for that. But of course you look ahead and I only have a half a year contract. If I didn't worry about that, that would be wrong too. I'm just happy to be with the team. We're in sixth place, we have other things to do Focus, everything else will be decided in the weeks and months to come. Then you will see in which direction it goes."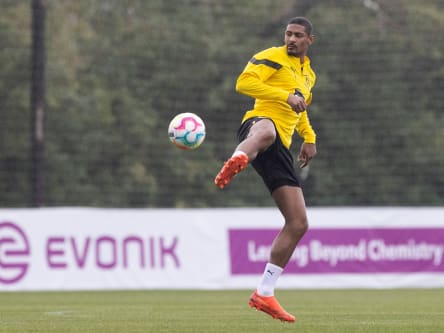 Working on his return: Sebastien Haller.
IMAGO/Kirchner Media
… the return of Sébastien Haller: "I got goosebumps that he was back on the pitch. We were so happy he was back. We all took our hats off to the fight he put up there. And how he came back now, with what mental strength. It's strong. You can see it every day: he trains with you.
Of course he still has some catching up to do but he gets it all done and it's great fun to be back on the pitch with him as he also gives us a new long term alternative that we might not have not in our game yet. But we'd all do well to keep calm and give him some time. It will take time for him to find his rhythm."
… the hoped-for qualification for the Champions League: "I'm still convinced that it's entirely up to us. If we put the things on the pitch that I mentioned, we'll start a race, too. But the other teams aren't sleeping either, they feel very at home. So it will be a tough fight until the end. But I believe in the team and the coaching staff that we will play a decent second half of the season.
#Reus #fall #preparation #switch #rumors #Haller