(Motorsport-Total.com) – Severe setback for Audi on stage six of the 2023 Dakar Rally in Saudi Arabia. Stéphane Peterhansel had to abandon the race after an accident. And Carlos Sainz also lost a lot of time due to an accident and no longer has any chance of victory in the overall standings. Nasser Al-Attiyah is doing well and takes his lead in the standings to more than an hour. Toyota takes the top four spots.
Peterhansel passenger was taken to hospital by helicopter
Zoom
Due to bad weather and heavy rain, the route of the sixth stage had to be changed. The capital Riyadh was approached directly from Ha'il. The special originally scheduled for Friday has been shortened by 100 kilometers.
The marked section was "only" 358 kilometers. It was still a long day for the participants, because including the liaison course, 918 kilometers had to be covered. The first cars left the Ha'il bivouac shortly after six in the morning.
Al-Attiyah was expected to lead the way after yesterday's win. Peterhansel attacked from the start. "Monsieur Dakar" led the intermediate classification after 84 and 186 kilometers, a few seconds ahead of Al-Attiyah.
After 207 kilometers, Peterhansel increased his virtual lead over Al-Attiyah to one and a half minutes. Yazeed Al-Rajhi (Toyota) followed a few seconds. At this time, Sainz had lost three minutes and Sébastien Loeb (BRX) five.
But then came disaster for Audi. At kilometer 212, first Peterhansel and then Sainz run aground. There was no collision between the two teammates, but rather two separate accidents.
Peterhansel's accident was worse. His co-pilot Edouard Boulanger complained of back pain and had to be transported by helicopter to a hospital in Buraidah for additional examinations. With that, the rally is officially over for Peterhansel.
Sainz and his co-driver Lucas Cruz are unharmed. They tried to repair their Audi in the desert. At the time of writing this article, he had not yet reached the goal. Sainz therefore lost several hours.
And another favorite ran into big trouble. Local hero Al-Rajhi, who has so far fought for the overall podium, stopped at 216km. Suddenly and surprisingly, the right rear wheel suspension broke.
Al-Rajhi and his co-driver Dirk von Zitzewitz had to wait for the service truck to repair the damage. "There's nothing we can do here in the desert alone, so we have to wait for the race truck," sighs von Zitzewitz. "Today there would have been something for us."
Al-Attiyah is now an hour ahead
While some of the favorites faltered, everything went according to plan for Al-Attiyah. After a journey of just over three hours, the defending champion claimed his third stage victory of the year.
"It was a very difficult stage, not easy", commented the veteran. "We attacked. 40 kilometers from the finish, the power steering pump broke. Oil leaked, which must be repaired before going to Riyadh."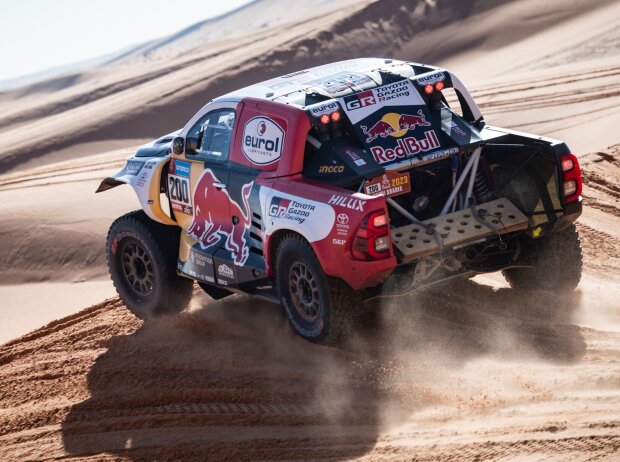 © Red Bull Content Group
Nasser Al-Attiyah now has an hour lead after six rounds Zoom
In the general classification, Al-Attiyah is now one hour ahead of his teammate Henk Lategan. The new third overall is rookie Lucas Moraes, who has German Timo Gottschalk as co-driver. "What a day," Gottschalk said.
"A very nice stage with increasingly difficult dunes than expected. We had good speed at the start but had to change a puncture after landing obliquely and the tire came off the rim. We are quite happy. Everything is fine. well today."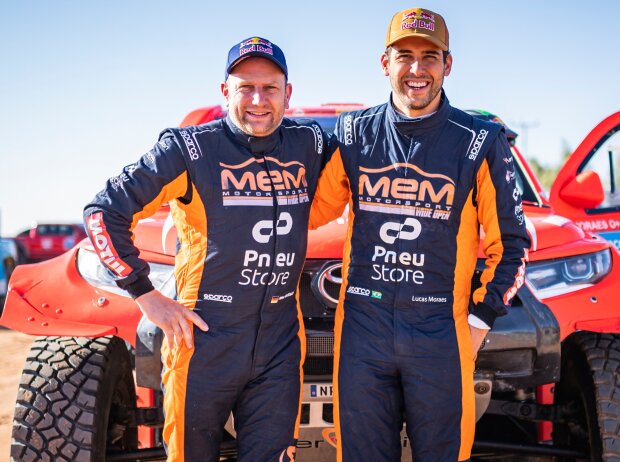 © Red Bull Content Group
Timo Gottschalk (left) and Lucas Moraes are new third parties Zoom
In the general classification, Toyota occupies the first four places. Mattias Ekström moved up to fifth place. The last Audi driver in the top 10 is 1h46 from Al-Attiyah.
Loeb has also taken advantage of the competition's problems this time and is now sixth. The Frenchman finished today's stage in second place, three and a half minutes behind Al-Attiyah.
Due to the heavy rain in this region, the organizer ASO had to reschedule the other route as well. Stages seven and eight will be combined into one marathon stage.
Result of stage 6 (Top 10):
01. Al-Attiyah/Baumel (Toyota) – 3:13:12 a.m.
02. Loeb/Lurquin (Prodrive Hunter) +3:29 minutes
03. Lategan/Cummings (Toyota) +8:52
04. Chicherit/Winoc (Prodrive Hunter) +9:12
05. Zala/Fiuza (Prodrive fighter) +10:33
06. Ekström/Bergkvist (Audi) +10:59
07. Moraes/Gottschalk (Toyota) +11:36
08. Serradori/Minaudier (Century) +12:36
09. Przygonski/Monléon (X-raid Mini JCW Plus) +12:45
10. Baragwanath/Cremer (century)+16:04
General classification after 6 of the 14 stages (top 10):
01. Al-Attiyah/Baumel (Toyota) – 24:00:48 hours
02. Lategan/Cummings (Toyota) +1:06:50 hours
03. Moraes/Gottschalk (Toyota) +1:13:19
04. de Villier/Murphy (Toyota) +1:44:38
05. Ekström/Bergkvist (Audi) +1:46:55
06. Loeb/Lurquin (Prodrive Hunter) +1:57:10
07. Dumas/Delfino (Rebellion) +2:13:07
08. Prokop/Chytka (Ford) +2:20:30
09. Baragwanath/Cremer (century)+2:49:27
10. Han/Li (Hanwei) +3:04:31
#Dakar #Rally #Peterhansel #retires #Sainz #injured #stage