(Motorsport-Total.com) – After just two stages of the 2023 Dakar Rally in Saudi Arabia, a duel is brewing. Nasser Al-Attiyah (Toyota) clinched his first stage win of the year on Monday. In the general classification, Carlos Sainz (Audi) leads Al-Attiyah by two minutes. Sébastien Loeb (BRX) is already 1h21 behind after a difficult day with three punctures.
Nasser Al-Attiyah attacked in the second stage
Zoom
After the participants spent the last days at "Sea Camp" on the Red Sea, they headed inland to Al'Ula on Monday. 590 kilometers were on the program. The classified special covered 431 kilometres.
The terrain was varied. It crossed stony canyons, but also smaller belts of dunes. As it had rained a lot in this area in recent days, deep tracks formed, which the last starters were able to use for orientation.
Audi driver Sainz opened the stage after yesterday's victory. It soon became apparent that rear starters had an advantage. Mattias Ekstrom (Audi) started 15th after picking up a fifteen-minute penalty yesterday for missing a waypoint.
There were tire problems on Guerlain Chicherit's Prodrive Hunter. The Frenchman had to change tires after 90 and 97 kilometers. Eventually, he ran aground at kilometer 99 because he didn't have a spare tire. Chicherit attempted to repair the damage.
Team Overdrive Toyota took center stage on Monday. After 105 kilometers, Lionel Baud, who started 74th, led the intermediate classification, while after 186 kilometers his teammate Erik van Loon took the lead.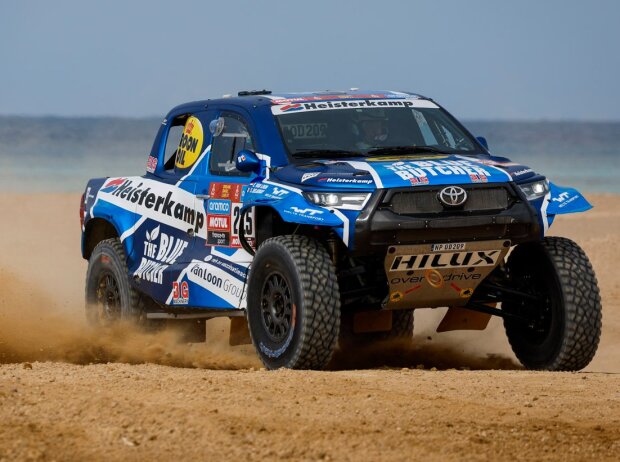 © OSA
Erik van Loon led the standings in some intermediate rankings Zoom
The Dutchman started the day as the 42nd car – more than an hour after Sainz! As a result, van Loon was able to follow in the tracks and make up time. After 230 kilometers there was a triple lead for the Overdrive team.
Van Loon leads the provisional standings ahead of Yazeed Al-Rajhi (Toyota) and Baud. The supposed favorites had a tough day. After 278 kilometers, Loeb (BRX) stopped for a while. He had already lost about 20 minutes in split time before that.
After five hours of driving, Sainz and Al-Attiyah were the first cars to finish, but we had to wait for the pursuers to see how the stage result worked out. Until the last split, van Loon looked like the winner of the day.
But at the finish, van Loon's time was 14 seconds slower than Al-Attiyah's. Thus, the defending champion celebrated a narrow victory on the first day this year. "It was time for an attack," Al-Attiyah said.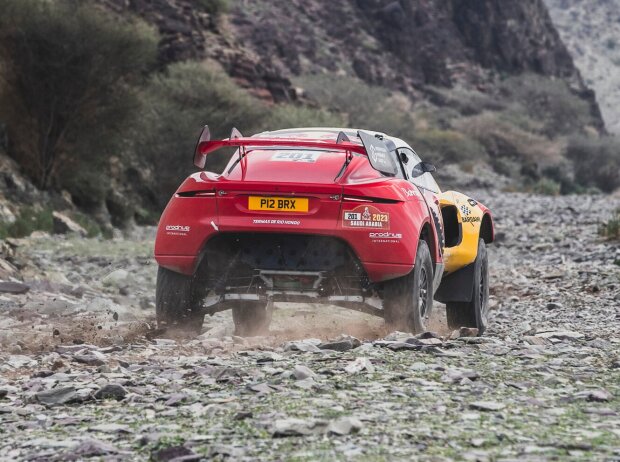 © Red Bull Content Group
Sébastien Loeb lost almost an hour and a half on Monday Zoom
"It was not an easy day because there were a lot of stones. The navigation was not easy. I'm very happy to have done a good stage. more cautiously. In the sand that I had, I attacked.
Five minutes behind and third, Sainz limited his loss. Unlike his Audi teammates. Stéphane Peterhansel lost 32 minutes today and Ekstrom 37. The day was even more difficult in the Bahrain Raid Xtreme camp.
Orlando Terranova finished an hour late. Loeb's time loss was one hour and 26 minutes. The chances of a first victory on the Dakar have moved away for the record world champion.
General classification: Sainz just ahead of Al-Attiyah
In the general classification, there were already quite significant time gaps after only two days. Sainz holds the lead two minutes ahead of Al-Attiyah. At this early stage, the rally turns into a duel between the two experienced drivers.
Century driver Mathieu Serradori is third, almost 25 minutes behind. Peterhansel has dropped to ninth place and is 36 minutes behind team-mate Sainz. Ekström is already 48 minutes behind.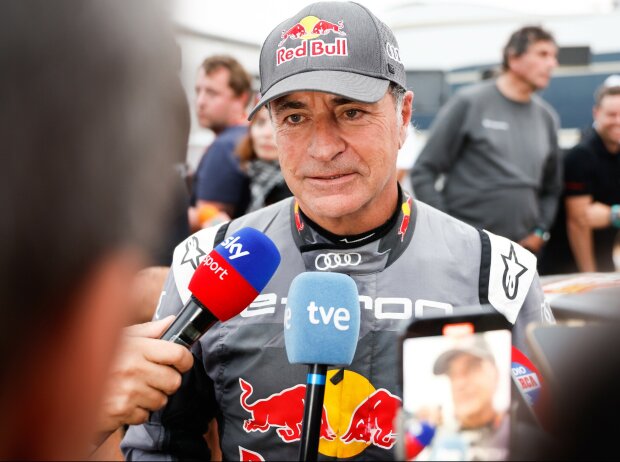 ©Audi
Carlos Sainz defended his overall lead just ahead of Al-Attiyah Zoom
The two German co-drivers didn't have an easy day either. Al-Rajhi and Dirk von Zitzewitz lost nearly half an hour today as they had to repair a broken handlebar. They fell to sixth place overall.
Timo Gottschalk, co-driver of rookie Lucas Moraes, also saw the finish line 30 minutes late. The Toyota duo leaves the top 10 of the general classification.
Tomorrow we continue east from Al'Ula to Ha'il. The third stage covers 669 kilometers. 447 kilometers must be mastered in time.
Result of the 2nd stage (Top 10):
01. Al-Attiyah/Baumel (Toyota) – 5:00:26 a.m.
02. van Loon/Delaunay (Toyota) +0:14 minutes
03. Sainz/Cruz (Audi) +5:05
04. Serradori/Minaudier (Century) +11:29
05. Baud/Boulanger (Toyota) +13:00
06. de Villiers/Murphy (Toyota) +13:12
07. Vitse/Lefebvre (MD Rallye) +2.30 p.m.
08. Prokop/Chytka (Ford) +19:15
09. Yacopini/Oliveras Carreras (Toyota) +22:27
10. Thomasse/Dubuy (MD Rallye) +25:06
General classification after 2 of the 14 stages (top 10):
01. Sainz/Cruz (Audi) – 8:34:26 a.m.
02. Al-Attiyah/Baumel (Toyota) +2:12 minutes
03. Serradori/Minaudier (Century) +24:55
04. Vitse/Lefebvre (MD Rallye) +25:40
05. de Villiers/Murphy (Toyota) +26:38
06. Al-Rajhi/Zitzewitz (Toyota) +27:59
07. Baragwanath/Cremer (century) +32:13
08. Prokop/Chytka (Ford) +35:24
09. Peterhansel/Boulanger (Audi) +36:08
10. Lategan/Cummings (Toyota) +39:52
#Dakar #Rally #AlAttiyah #wins #stage #Loeb #loses #lot #time